What is a cake consultation?
A cake consultation is a meeting in which the bride, groom and one or two other people meet with a baker/cake decorator to discuss all the details regarding the wedding cake.
This process happens in two or three stages, includes a cake tasting and ends with the signing of a wedding cake contract.
Why is a cake consultation important?
A wedding cake is the showpiece of a wedding reception and can potentially be a major financial investment.
It is extremely important to conduct proper research, communicate wants and needs, agree on financial decisions and confirm all fine details before a wedding cake contract is signed.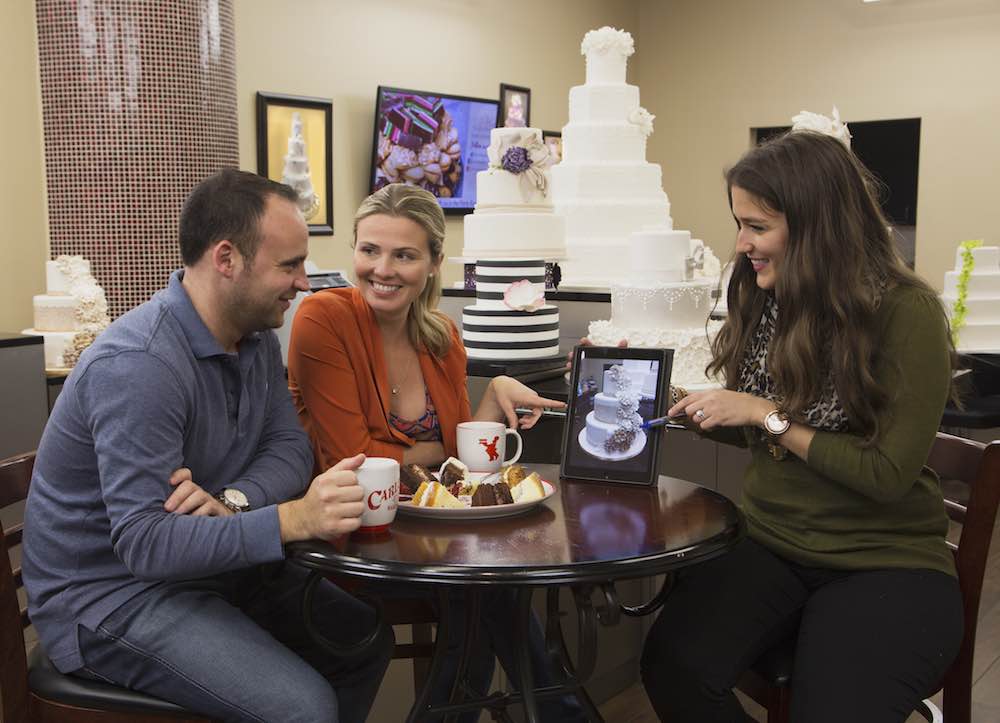 Photo credit: Carlo's Bakery
Where is the location of wedding cake consultation or tasting?
Wedding cake consultations and tastings usually happen at the bakery. Some bakeries have showrooms designed for this purpose, some simply have a decorative table and others use the "restaurant" part of the business.
If it is inconvenient to have a consultation at the bakery, the tasting may occur at the actual wedding venue or even in the home of the bride, groom or the baker.
Smaller businesses may do consultations at a local coffee shop or a small rented space.
What should come first? A tasting or a consultation appointment?
This question is debated by all bakers. Some believe that customers need to taste the cake first before any information is required. They simply charge for a tasting and don't ask questions.
Others believe that preparing a tasting is a waste of time for uncommitted customers and therefore require information before a tasting is allowed. The process is up to each individual baker, however usually a consultation appointment is arranged, followed by a tasting session.
Most bakers agree that gathering and sharing information narrows the customer base and avoids endless tastings that result in no business.
Do online forms replace an initial consultation appointment?
The internet has allowed many bakers to provide basic information and ask potential customers questions online. It is not uncommon for bakers to have online forms for customers to fill out in lieu of or in advance of a consultation appointment. It is up to each individual baker how they want to use online forms.
Initial consultation questions
Bakers are undecided on how to first approach a consultation appointment. There are a variety of ways to gather important information from clients before the actual cake tasting. Three possible ideas:
Option #1
Consultation Appointment
Tasting Appointment
Option #2
Online Form Completion and Submission
Tasting Appointment
Option #3
Online Form Completion and Submission
Consultation Appointment
Tasting Appointment
Questions/Requests for the Client
It is imperative that whatever option is chosen it is convenient for the customer and it covers all necessary information. The following are questions and information that should be delivered or asked before a tasting appointment:
Basic Information
Picture of the wedding gown and tuxedo
Swatch/photo of wedding colors
What is the wedding cake budget?
What is the expected number of cake servings?
What is the wedding theme/style?
Do you know of any food allergies?
Do you have a wedding planner? What is their name and contact information?
What is the wedding reception date?
Venue Information
What is the name and address of the venue?
What is the name and number of the person in charge (wedding planner, mother, sister etc.)?
What is the name and number of person who is setting up the cake?
What is the time needed/allowed to set up the cake?
Will there be a need for accessories/decorations?
What is the temperature of the venue (air conditioning, outside)?
What time will the cake be delivered?
Cake Information
What shape do you want the cake? Round, square, rectangle, hexagon or mixed shapes?
Do you want cupcakes?
What colors do you want on the cake?
What flavors do you want?
What is your icing preference?
Photos or sketches of desired cakes
This information should be general. All the specific details will be decided at the cake tasting.
Financial Policies/Information
The initial consultation appointment or online form submission is an excellent time to outline financial policies and information. This narrows down potential clients and sets the stage for expected expenditures while discussing the finer details at the cake tasting. The following information is required:
Deposit – when it is needed and the amount
Delivery charges
Taxes or service charges
Additional fees
Cancellation policy
Damaged cake plan
Refund policy
Procedures if the cake is unsatisfactory
Cake tasting cancellation policy
Cake tasting fees
Additional Information
It is important to inform clients of any additional information regarding cake tastings or other bakery policies including:
Number of people allowed at the cake tasting (generally 2-3 at the most)
Potential allergens at the cake tasting
Information regarding dessert tables or edible wedding favors
Questions for the Cake Tasting
The cake tasting is when final decisions are made and all information is understood and agreed upon. It is extremely important that all details are discussed and all prior information from online forms or prior consultation meetings is confirmed.
What is your confirmed design? (this can be determined by a photo or sketch)
What cake shape do you want? Round, square, rectangle, hexagon or mixed shapes?
What colors do you want for each cake tier or do you want the entire cake to be the same color?
What flavors do you want for each cake tier or do you want the cake to be all the same flavor?
What type of icing do you prefer?
Do you want fillings? If so, what kind of fillings? Do you want different fillings in different tiers?
Do you want to use real flowers? If so, what is the name and number of your florist?
Do you want a pattern on your cake (basketweave, lace etc.)?
Do you want ribbon on your cake?
Do you want a cake topper? If so, who is providing the cake topper? Do you want the bakery to make a cake topper?
Do you want a groom's cake? If so, provide all the same details for this cake as the larger wedding cake.
Do you require cake rentals? If so, what do you need? Confirm all fees associated with accessory rentals.
Do you want all your servings on the cake or do you want a smaller decorative cake and sheet cakes for additional servings?
Every last detail of the cake needs to be decided and confirmed. The cake tasting should be the last meeting regarding the cake and the final step before a cake contract is signed.
Confirmation of Online Form Submission or Initial Consultation Meeting
A confirmation of relevant and important information should be confirmed including:
Venue information
Date and time of delivery or pick up
All cake set up details including table decorations, who is setting up the cake, where the cake is being set up and how much time is required or allowed for cake set up.
A detailed description of the utensils used to the cut the cake, who is cutting the cake and size of each serving.
A complete overview of financial information including fees, dates and methods of payment.
Names and numbers of important people including bride, groom, wedding planner, "person in charge" (mother, sister etc.), florist and vendor.
Questions Clients Ask Bakers
All bakers should be prepared for "cold calling" questions regarding all aspects of wedding cakes and the wedding cake industry.
It is not uncommon for prospective clients to run through a list of prepared questions before considering a consultation appointment or tasting.
All bakers should be prepared to answer the following questions without hesitation to appear professional and prepared.
Business/Qualification Questions
Are you licensed, inspected and insured?

How long have you been in business?
Do you specialize in wedding cakes?
How many weddings have you done?
Where did you receive your training?
How many wedding cakes do you schedule on an average day?
Can you provide me with references?
Do you have a portfolio of work I can view?
Specific Business/Finance Questions
Do you have the wedding reception date available?
How far in advance should I order my cake?
Do you have a menu of cakes and prices that I can view?
What is your minimum per person cake cost?
Do you provide cake accessory rentals? What is the cost?
How do you price your cake? By the slice? Does the cost change based on flavors?
Do you decorate cake tables?
What are standard delivery fees?
What recommendations can you give me to maximize my budget?
Cake Questions
What are your specialties?
Do you do custom cakes or do I select from set designs?
Can you adapt old family recipes?
Do you offer vegan/organic/alternative diet options?
How long in advance is my wedding cake made? Do you freeze cakes?

Do you preserve the top tier of my cake for my first wedding anniversary? Do you provide a separate cake for my first wedding anniversary?
Do you have cake tastings? Do you charge a fee for cake tastings?
Can you offer design ideas based on a theme or budget?
What flavors do your offer? What fillings do you offer?
Do you work with real flowers? Can you create decorative flowers?
Do you make groom's cakes?
Do you make your cakes from scratch or do you use store bought ingredients?
Can you replicate a desired cake design?

Do you offer dessert tables?
Do you make edible wedding favors?