Hi! My name is Heather and I am the Owner of Simply Cupcakes and More in Warner Robins, GA. I am so thrilled to have been asked to write a blog post for BakeCalc!
I've been asked to share some of my "Ah-ha!" and learning moments of transitioning from a home baker to a bakery owner.
My transition is not a typical one, but nonetheless, I still had obstacles to overcome and joys to celebrate.
The story of how a joke about buying a bakery became a reality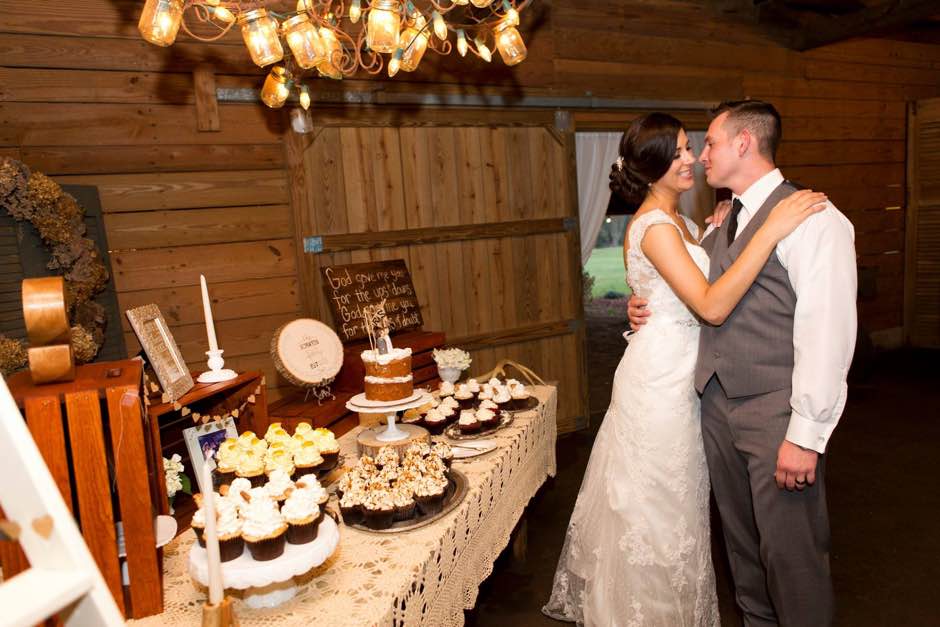 In February of 2015, my sister in law tagged me in a post of a local cupcakery owner who was selling her business. She wanted to retire, travel and see grandchildren, and give herself more time to do the things she wanted to do. She had started her business online, grown popular in the area and opened a store front in 2011.
As a joke, I texted my mother-in-law, Darena (who is also my business partner!) and asked, "Hey! Wanna buy a bakery?"
She had just retired from a GM position with a national restaurant chain and she had valuable restaurant experience and she also has opened and run her own restaurants and businesses spanning 20 years back.
We set up a meeting with the then owner, got the details and discussed at length, both together and with our husbands. Her asking price was fair and included the brand, all the equipment (from stoves to teaspoons!) and she had about 9k Facebook followers. Within a week, we had many meetings with the owner and Darena and I gathered our financing options to make the purchase, figure out startup costs, go through inventory and how we could improve on the business once we took over.
We had limited access to the four previous year's financials, so we were taking a gamble on if we could make it work.
We knew that we wanted to expand the cupcake business into more of a one stop bakery and would offer cookies, cakes, pies and custom designs.
Within 6 weeks of meeting the owner, we managed to get our financing, sign a lease, did some remodeling to expand seating (the current shop only had 2 tables and 8 chairs) and get our licenses and inspections applied for. I, my husband and the in-laws were a huge help in the process, as we did all the work ourselves which was a huge money saver.
All the while I was still working my full time retail management job, wrangling a 2 year old and a 7 year old, and being 5 months pregnant with #3! It was a LOT of hard work and hours, but we have made it work!!
We have been open 6 weeks (grand re-open was April 4th, 2015) and we made our profit goal for April and are trending above goal for May. By taking the cupcakery and transitioning it to a custom cake destination, about 25% of the profit from April was based on custom orders/cakes. While cupcakes are still a huge part of our business, the Custom Cake option is what motivates our customers to come in.
We run on a small 3 person team – Darena, my awesome sister-in-law Brittany and myself. Additionally, the husbands come by and help during busy weekends to take orders and work the counter. With the three of us working a good rotation, we don't burn ourselves out and we have a LOT of fun in the process. We pride ourselves on a Family Own and Operated business and are enjoying every minute of it!!
So, here are a few things on a long list to share about the transition for us, and what things I learned along the way. If you have any specific questions, please feel free to reach out to me or leave comments! I'll do my best to answer them!
My top 10 "Ah-ha!" learning moments from transitioning from home baker to bakery owner
1. Partner with a business partner
I cannot stress this enough. I absolutely, without a doubt could not be operating a successful bakery without my business partner and Mother in Law, Darena. She has had over 20 years of restaurant and small business ownership and management and her insights and ideas and "how to get it done" has been invaluable.
My previous life and previous day job was as a retail manager in big box companies. However, I know nothing of small businesses and how to make them work. Sure, I would have figured it out over time, but she is the one who keeps it all grounded and keeps it running. If you do not have that option, or must run everything yourself, do as MUCH research as possible.
Reach out to your local business bureau, small business owners association or find other small business owners in your city and pick their brain. The hours and hours of time – the time you need to make money - will save you by getting it all done the right way the first time! 
2. Don't over complicate
The first week we opened, our thought was we wanted to offer 10 different kinds of cupcakes every day.
This resulted in not being able to sell them all, and lost a lot of product and time which equals money!
After the first week, we simplified our daily menu to 4 core flavors (most popular) and then each day did an additional 2-3 different flavors. Of course, we always do custom orders for any flavor the customers wanted to order (6 or more!). If we ended up selling out on a particular day, it's easier to make more product than it is to lose the profit of unsold items. In addition to our cupcakes, we also do homemade pies, cookies, cakepops and small take home cakes. Between all the options, most customers found something to satisfy their sweet tooth. It keeps you less stressed and focusing on growing your business.  
3. You will throw away product
No matter how tried and true a recipe is, there will be times that it will sink, explode, over-bake, under-bake, burn, taste awful, look awful and a whole list of other things. It's hard to throw product away, but from a quality perspective, your clients will thank you.
Best advice, especially when trying a new recipe - do a small batch. Then you can find out what works and what doesn't and you can make adjustments.
It hurts a little less if you can save a few cupcakes from the trash.
4. You will not know what you need until you need it
Expect to go on a lot of grocery store runs! We probably had to go to Sam's Club, the grocery store or the Restaurant Supply store about twice a week our first month. We figured, "Hey, 100 pounds of flour will make a lot of cupcakes! That's all we need!" and it was all we needed for about a week and a half.
Now, we have a good idea of how much of everything we may need month to month – this saves time, gas, money and stress!
Keep all your receipts from shopping trips or write down how much of what you buy each time. This way when you have to do a bulk order, you can get closer to your average usage and save on the extra trips.
Check around for restaurant supply stores and bulk food distribution centers (some offer delivery!) and I would highly suggest a membership to a Sam's club or other bulk food store. Price compare and find where you can get the best deals.
5. Barter services for product
You will be amazed what you can barter for. Barter catering a cupcake party for an advertising firm or do a custom cake for the local paper.
People from all sorts of business background will come through your door, and as you create relationships with them, you may be able to work out some trade options.
We have offers for tattoos in exchange for cupcakes, radio ads at a steeply discounted price with cupcakes thrown in and a lot of other things (both on a personal and on a business level).
It never hurts to offer a service for trade – besides, who doesn't love cupcakes??
6. You will not make everyone happy
I know this is a hard one, but don't stress out over it or lose sleep or tears over it! I have had customers walk out just because we don't have a specific flavor cupcake that day that they must have. I have had customers upset because we sold out before they got there. I have had customers tell me they were going down the street to the competition because we can't make them something on demand. And you know what? That is OKAY!
Don't be a doormat to your customers!
If you spend all your time clamoring trying to make one person feel better, you will miss out on all the customers who are happy to have a cupcake or two that you are offering that day. Just remember to be positive, apologize once and offer to let them know the next time you make their favorite or ask if they want to place an order for later on in the day or the next.
You cannot please 100% of the people, 100% of the time.
7. It's okay to say "yes"
I have had requests for cakes that I have never dreamed of trying to sculpt or build or design. Don't think you aren't good enough to pull it off! There are TONS of resources to figure out how to do it!
YouTube has been my best friend when it comes to learning new things. If I don't know how to do it, then I figure it out and practice it until I master it.
I had a request for a Frozen themed cake with sugar glass towers and stairs. Sugar glass scares me and I never had a desire to use it for anything, but I told the client I could do it. I burned 2 batches of sugar, ruined a pot and burnt my finger, but I finally got it done. The cake was amazing and the client loved it.
If you find out after you have said yes that you honestly cannot make it happen, be honest with the client and offer alternatives right away.
8. But you also have to be able to say "no"
We would all love to take on any and every cake a client wants when they want it. But sometimes it's just not possible.
As your business increases, you have to know your limit on how many cakes you can realistically get done in the time frames the clients need them. At our bakery we only do 3 medium to large custom cake orders a weekend. I do not want to sacrifice quality for my customers just to take on one more that will cost me 10 hours of time, and decrease the time on the others.
You are far more likely to get those 3 returning customers if they get amazing cakes, or not get any return customers because you took on too much at once.
And sometimes, if a client really wants your cake, you will be surprised that they are willing to change the date of their party in order to get the cake they want from you! Additionally, this puts you "in demand" and people will book far sooner than needed just to get in your books!  
9. Set up a business account
This is invaluable! This is a great way to keep track of everything incoming and outgoing, not to mention help with taxes at the end of the year. Depending on the point of sale program you use (we use Square and we love it!) it can be set up to direct deposit to your account. Make sure to use your business account for anything relating to the business. This helps you know exactly what you are using and buying. Use your bank account and a system like Quickbooks to integrate a payroll option to pay your employees, and even yourself.
The IRS wants to see everything, so make sure it's all documented. You will have to account for every cent, so if you do not feel comfortable doing this yourself, spend between $50-$150 a month for a tax firm or business to do all your monthly payroll and taxes for you. We use Linda's Tax Service in WA and we mail off our receipts and order forms, they do our book keeping and mail out payroll. It can save a lot of time at the end, and these places will also be able to do your yearly taxes at the end of the year! One less hassle!  
10. It will cost a lot of money to start up
My situation is unique in that when I bought my bakery, it came with the name, equipment, recipes, client list and social media accounts. I figured it was going to be a breeze to walk in and take over. The reality of it is, it cost about 5k just to get into the building and another 5k for supplies and advertising.
Here is our general breakdown but, remember, every business will be different as well as costs in your area. We live in GA, and our state is slightly on the cheaper side when it comes to consumer goods, but it's a good jumping off point.
Licenses, fees and the IRS – Make sure you check with your local business or tax office and find out exactly what you need to have in order to be open to the public. Fees for licenses range from $150-400 dollars and you may need multiple licenses from different branches or offices. We spent about $1100 in creating our LLC, business licenses, tax licenses, Department of agriculture license, inspections and other fees.

Utilities and rent – Our shop is in a high traffic area in a small shopping center. When we bought the business, we had to sign a new lease with our names and had to pay 1st month's rent and one month as a deposit. We choose a 3 year lease which gave us "two free months" but this may not always be the case. Our total deposit for the space was a little over $2000.00. Trash pick up was another deposit and monthly fee of roughly $45. Electric deposit for business was $500, and the electric bill each month will run about $250-300 a month.

Insurance – Please don't forget to get insurance!! Depending on the policy you go with, it can cost just a few dollars a month to hundreds. Most policies cover water and flood damage, storm damage, vandalism, fire, burglary etc. In some cases, your lease may require you to have this, so expect to have to pick a policy. Our initial fee was $345 and a quarterly payment.

Advertising – We don't have much of a monthly advertising budget, but if you are just starting out or buying from a previous owner, you have to spend some money on getting the word out. We hosted a pre-reopening event and guests would get a free cupcake and coffee, and was selected from a random drawing on a Facebook post. We printed up color copies of fliers and distributed them to schools, friends took them to work, and we passed out business cards to anyone we came in contact with. We signed up with our local Chamber of Commerce for this year, and I really recommend this! Our chapter hosts monthly get together with local businesses, they have special events and sometimes you can be a "vendor" for a small fee or for free – you only supply the product. This is a way to get your name and business out there! For our first month, we spent roughly $700-$1,000 for our opening event, fliers, giveaways and signing up with the Chamber.

Product and boxes – Don't forget the boxes, and don't underestimate what you will need! Between our restaurant supply store, Sam's club and the closest Bulk Food distributor, we spend roughly 2k in food products. This won't be our monthly cost, because some things will last 4 or 5 months, while other things are needed every week. We spent roughly $500 on boxes, inserts, labels and cake and pie boxes. Online offers a lot of choices, so do the research and find what works best for you and your business. 
There's my top 10 "Ah-ha!" learning moments. I hope that it inspired you and that I was helpful in sharing some of my transition insights. I'd love to answer any questions if you have them, and if you are ever in Warner Robins, GA, stop in and see us!!
Please also like and follow our Facebook page to see all the neat things we are doing!