Baking is an art by itself. Though there are a multitude of corporate bakeries and organizations, the real sweet taste of home baked products is certainly incomparable. Have your friends and family raved about your baking skills? Have you those magical hands that bring a unique flavor to baked goods? Do you constantly come up with novel ideas and new ways of designing and creating cakes, pies, cookies and other pastries? Home-Baking businesses have started to bloom for precisely these reasons. Starting a new business is an extremely challenging task that tests the levels of your endurance and intelligence. While financial aspects have to be dealt with, it is also pertinent to know and comprehend the various laws that govern homes businesses. The Cottage Food Laws have come as a heaven send for home baking businesses.
Here is a highlight on the various key aspects of the Cottage Food Laws and Operations.
State-wise Implementation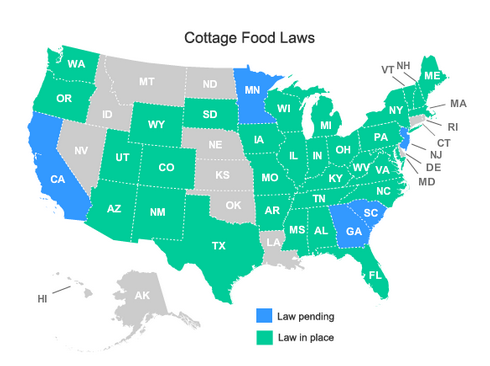 The Cottage Food Laws have been implemented in various states through legislations and regulations with certain variations in details. It is therefore essential to have a thorough understanding of the Laws that are specific to your state before beginning your home baking business. While most of the states permit any resident to start a cottage food business, some have restricted the same to agricultural and farming families.
Category of Foods Allowed
Almost all the states require the foods to come under the "Potentially non-hazardous" category. Baked goods that do not use Cream, meat and custard, Candies, Dried fruits and Pasta, Chocolate covered non-perishable foods, Dry Baking Mixes, Granolas, Cereals, Herb blends, Honey and Sweet Sorghum syrups, Waffle cones, Vinegar and Mustard, Popcorn, Pizelles, Jams and Jellies, Roasted Coffee and Dried Tea come under the "allowed" list.
The lists vary from being broad (in states like California, Alaska, Utah, Rhode Island etc.,) with no specifications on the type of food to being very restricted to micro-processed and pickled products (in states like Indiana, Kentucky, Maryland etc.,).
Manner and Amount of Sales
While certain states like California, Maine, New Hampshire, Ohio and Pennsylvania allow indirect selling through retailers, wholesalers, restaurants, cafes etc., others permit only direct customer sales. Certain states like Georgia allow for online sales while many forbid it.
Many states restrict the amount of sales done through home based and cottage food production. These limits can be on the basis of monetary value or the number of individual items sold. The monetary limitations fall anywhere between $5000 and 50,000. Few states like Alabama, Ohio, New York, Georgia, Indiana, Utah etc., have not indicated any limitation on sales.
Labeling
All states require the food items to be labelled with information and details on the producer, the product (name, ingredients, allergens, weight and processing date) and a declaration stating that the product has been home made.
License and Permit
While states like Texas, Alabama, Virginia, Indiana, Vermont, Florida etc., have not indicated the need for obtaining licenses, other states like California, Colorado, Georgia, Maine, Kentucky, New Mexico etc., require the producers to obtain valid permits and licenses for selling.
Cottage Food Laws and Operations offer a great new way to encourage and aid small and medium businesses and serve as a dream come true for many aspiring home based food producers. Since the various states regularly amend their respective Food laws, it is essential for any up and coming home-baking business aspirants to keep themselves abreast of the developments to ensure these laws are made use of in the finest way possible.
The best way to ensure that your home-baking business is successful is to study the laws governing your state and to find an appropriate and unique product or range of products that would find an audience. With the social media providing ample opportunities to advertise and expand the reach of your business, building your own home-baking business and turning it into a licensed and legal operation has become that much simple!