With the introduction of the cottage food laws in California, the opportunity to start a small home baking business has opened up for many. If you are considering opening a baking business out of your home, there are a few things you should consider before turning on the oven.
Here is a simple guide of how to start a home baking business in California:
Decide on the goods to bake
You probably already have a good idea about what you want to bake and sell in your business, but it's a good idea to figure out exactly what you are planning to market.
You will need this information when you register as a food provider and, under cottage food laws, you may sell:
Baked goods – breads, biscuits, churros, cookies, pastries and tortillas (excluding fillings with custard, cream and meat)

Dry baking mixes

Candies

Dried Fruit

Chocolate covered fruits and nuts

Herb blends and dried mole paste

Honey and sweet sorghum syrup

Jams, Jellies and Preserves

Nut mixes, nut butter and fruit butter

Dried pasta

Popcorn

Vinegar and mustards

Roasted coffee

Dried tea

Waffle cones
It's your choice as to which of these products you would like to sell. Think about what you enjoy baking the most, as well as who would want to buy the products and what the competition in your area is like.
Plan your kitchen space
If you are going to make your home kitchen into the grounds for your new business, it is important to treat it like a business environment. You should make sure that you've got the right facilities to make the products you are planning on selling.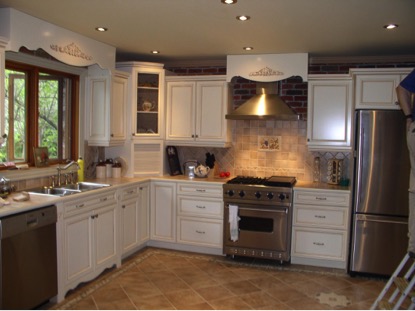 In addition, an appropriate level of hygiene standards is essential when you are running a business of selling home-baked goods. For this reason, you should plan your kitchen in such a way that it is clean, tidy and functional. Kids or animals in the kitchen area are not a good idea, as they are likely to bring bacteria and other harmful things into your kitchen.
Get a permit
In California, there are two types of permits available for cottage food businesses: Type A and Type B.
People with a Type A permits are able to produce and sell goods directly to the consumer, with no need for a kitchen inspection. Type B licenses also allow you to sell directly to consumers as well as to retailers, cafes and restaurants. These cost a little more and also require an inspection of your cooking space.
To get the permit, you will need to provide a list of ingredients, equipment and recipes, as well as where ingredients are sourced, copies of product labels, a description of your packaging, a kitchen floor plan and a certificate of an approved food processor course completed within three months of the application.
Talk to a tax agent
When opening any new business, it is best to talk to someone about how you should register the activity and what taxes you will need to pay on income earned. If you are working alone, it is likely you can use your Social Security number to file taxes as full or secondary income. It is also possible to open a separate entity and employ one other person to help you with your business endeavor.
Set appropriate prices
Once you've got your business ready to go, setting prices that are attractive to customers but good for your bottom line can be difficult.
It is important that you know the expenses that are needed to make each product that you sell. Our baking calculator can help you work out how much you are spending in the production of your goods – including your ingredients, equipment and time. This can be useful in helping you to set prices that are fair both to you and your customers.
Start baking and selling
Now that you've got the details sorted, you are ready to start baking and open up shop. Don't forget to advertise your new business, to make sure that people know that delicious home made goods are going to be available for sale right in their community.
Starting a baking business can be a fun project to get up and running. From planning the product list to getting the logistics sorted and setting your prices, it doesn't have to take long and, realistically, you can be opening up your business within a few weeks.
There's no better time to get started than today!