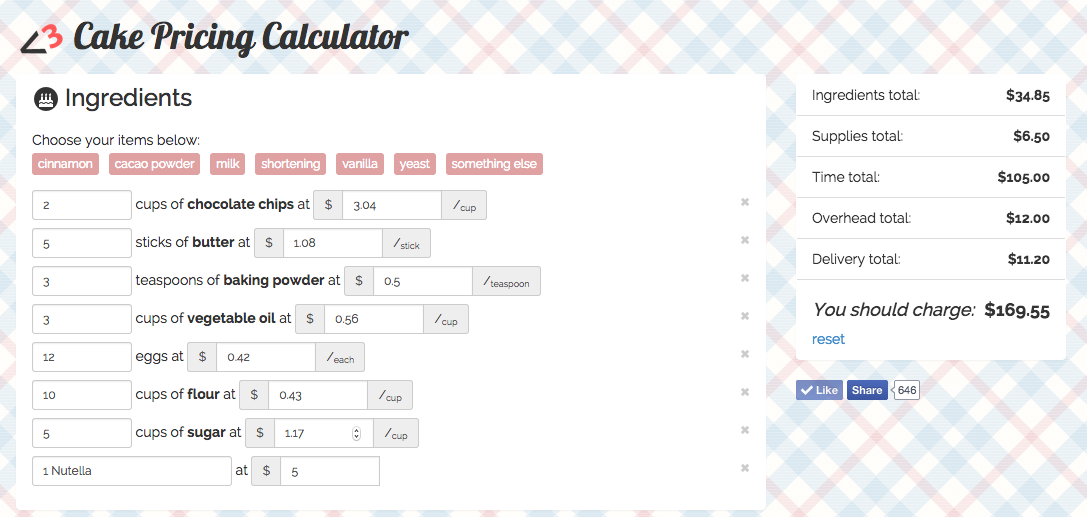 Pricing a bakery item like cakes could give a really tough time to any bakery shop owner or a bakery enthusiast. Pricing your cake is like pricing an art, which is always considered to be priceless by the artist. But no matter what you feel about your art, you are out there to excel in your business of cake making and thus you need to price your cake with utmost care. There are a number of factors that one must keep in mind before determining the price of cake, some of which are enlisted below for your quick reference:
Determine the price of the supplies you are using
This is the most important aspect of determining a cake's price because by supplies, we mean the raw material used in your cake which forms the basic foundation of costing structure while pricing a cake. For instance, a chocolate cake would cost more than a pineapple or vanilla cake because chocolate is costlier than vanilla essence. Thus determining cost of supplies such as baking powder, milk, yeast, chips, sugar and eggs etc. gives you a fair picture of the money spent by you in baking the cake.
Overheads are important
A cake is never baked in isolation which means one cannot bake a cake just by assembling all the raw materials and supplies. You need a proper space, electricity, oven and even proper utensils for carrying out the baking task. There are chances that you bake in a rented place or with the help of rented utensils or oven which means your overhead cost would be more than a baker who owns all these utilities. So make sure to include a part of your overheads in each of your cake in order to determine its true price.
Get compensated for your time
A baker needs to determine his/her hourly rate and must include the same in determining the price of the cake. Say for example, you feel you should be paid $10 for an hour and your cake was baked in 2 hours then, your time compensation would be $20 in the entire cake price. One can even include delivery charges in the same, if you are responsible for making the cake delivery as well.
Location and competition
A baker carrying out a cake baking business in London is definitely going to charge more for a cake than the one living in India. The reason is simple, cost index and inflation play a major role in determining price of a particular cake.
Secondly, one must not ignore its competitors while pricing the cakes. One can use either skimming or penetrating techniques depending on the circumstances. For instance, if your basic motive is to capture maximum number of clients then, you can do so by pricing your cakes lower than your competitors. However, if you want your cakes to be a luxury and robust item then, follow skimming technique and price them higher than your competitors.
However if you don't feel like getting into so many calculations, then we suggest you to visit our Cake Pricing Calculator- an innovative and instant cake pricing calculator.