Designing the perfect product labels for your home baked goods can take a lot of planning, but it can be great fun to create labels that represent your business.
Legally, there is certain information that you need to make sure you include on the labels. And for your business, it is helpful to create a distinctive look to your product labels to help customers recognize homemade goods you have made.
Let's begin with what you need from a legal perspective and then get into ways that you can decorate your labels to give them a personal touch!
Essential Information
Not sure exactly what you need to put on the label? No problem. Here are the details:
Product Name

"Made in a Home Kitchen" (12-point font)

Your Business Name

Business Address – must be where product was made (no PO box)

Permit Number

County Number

Ingredients (ordered from highest to lowest weight)

Allergens (e.g. milk, eggs, peanuts, tree nuts, wheat, soy)

Net amount – weight in pounds and grams
If you would like to include an email address or phone number to help your customers to contact you and make more orders, you may do so. It's not a requirement, but you certainly can!
Once you've got all of the essential information on your food label, you are legally able to sell your food products. If you'd like to give it a distinctive touch to help people to recognize your business and brand, it is a good idea to think about the visual design of the label.
Personalizing your Label
As long as all of the required information is clearly visible and easy to read, the way you want to design the product is completely up to you. There are a lot of different options you can choose from but often simplicity is best.
It's a good idea to sit down with a blank piece of paper and start sketching ideas. Think about your business and what you would like to represent it. Anything is enough to get started and it won't be long before you have too many ideas to fit on your label!
Choose a color scheme that you like, including both the background color and the fonts. It's important that it is easy to read the information written on the label, so make sure to choose contrasting colors. One lighter color with a much darker one usually works best.
Do you already have a logo? It's a great way for your customers to recognize your brand, particularly if it's placed on every product label. Even if it's something simple that you made yourself, a logo is important for any successful business. Decide where you'd like to put it on your label and watch how it gives it a distinctive touch!
There are also different types of labels to choose from. You can get stickers printed that you simply attach to each product. Alternatively, you may prefer a paper card style label that you attach to your goods with decorative string. If you package homemade cakes in boxes, you could have the boxes printed with a label. The type of label you choose depends on your products and how you usually package them.
An Example Label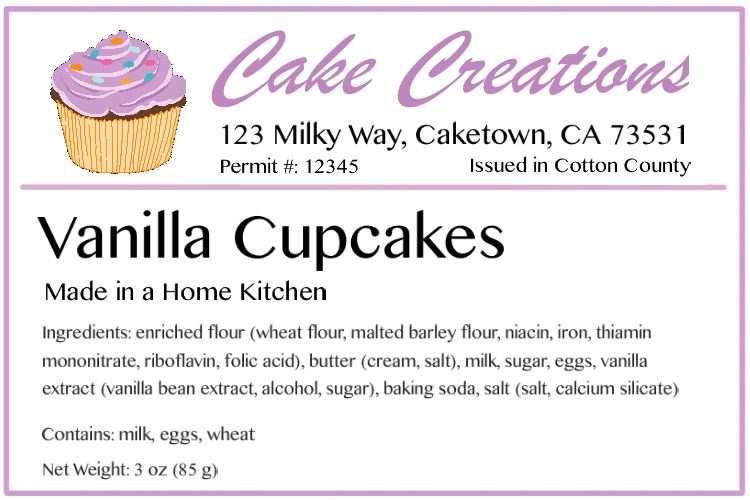 Finally, here is an example label to show you what needs to be included and to give you an idea of one way to design the label.